Feya – one of the most Instagrammable boutique cafés in London – opened their third venue in one of the city's historical landmarks, Marble Arch. The new venue is celebrating women empowerment and creativity and has a secret glow-in-the-dark room under the main restaurant, set to open later this Summer.
'Wear Your Crown'
Photo: Urban Adventurer
Celebrating Feya's core values and mission: the power of women and to reduce the gender pay gap, the award-winning café, bakery, and restaurant teamed up with the well-known artist, Ramona Pintea to curate two extraordinary murals.
Photo: Urban Adventurer
Ramona is best known for her unique murals inspired by Women Empowerment and her 'Wear your crown' movement.
'Hand of Inspiration'
Photo: Urban Adventurer
The ground floor of the two-story café displays a truly unique feature hanging from the ceiling. 'Hand of Inspiration' is a human hand holding an illuminating globe that flushes the airy café with light during night time.
'Hand of Inspiration's aim is to inspire women to bring joy and beauty to the world throughout their uniqueness, innovative minds, and creativity.
Modern Jungle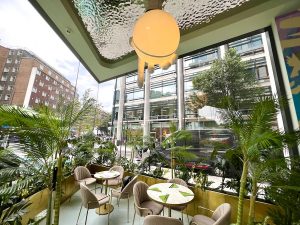 Photo: Urban Adventurer
Feya Marble Arch is a modern jungle. Lots of greenery decorate the café and you can literally take a seat under palm trees. The glass walls let as much natural light as possible into the café, making the whole venue a sparkling, inspiring, and energising place.
Feya Underground
NOTE: Feya Underground is set to open later this Summer. Please, keep an eye on their social media for updates.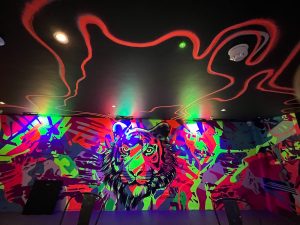 Photo: Urban Adventurer
Hidden beneath the main café, there is a secret Instagrammable location, inspired by modern graffiti art.
Feya Underground is displaying glow-in-the-dark graffiti walls and a completely different menu to the ground floor. In contrast to Feya Café's signature all-day brunch, coffee specialities and indulging home-made desserts, Feya Underground is offering classic street food, including burgers and fries and chicken strips.
Ready for your next adventure? After a nice coffee and cake at Feya Marble Arch, why not walk to Selfridges and visit 'Visions for the Future: The Exhibition'?
'Visions for the Future' is a thought-provoking exhibition with a giant hyper realistic kinetic sculpture, an inflatable labyrinth, a realistic human machine and more. The exhibition is visualising a positive, sustainable, ever-expanding future where boundaries between dream and reality, technology and biology blur.