Here are some mind-blowing displays, so magical, you'll definitely want to take a selfie with.
Scott's Mayfair
Photo: Urban Adventurer
Scott's Mayfair's dreamy moon decoration is inspired by a celestial event taken place back in 1811 when a bright comet with twin shimmering gold tails appeared in the sky.
In partnership with the famous wine and champagne producer, Perrier Jouët, this elegant decoration, called 'Starstruck Christmas' celebrates that unique event under which Perrier Jouët was founded.
Annabel's 
46 Berkeley Square, London W1J 5AT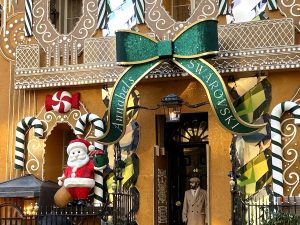 Photo: Urban Adventurer
 The private member club is famous for its extravagant decorations changing throughout the year. In collaboration with Swarovski this year, Annabel's unveiled a glittering crystalized life-sized gingerbread house façade in late November which instantly became social media famous.
TIP: Take a closer look when visiting and admire the huge crystals covering the giant green bow and the Santa figure.
 EL&N Café – Brompton Road
239 Brompton Rd, London SW3 2EP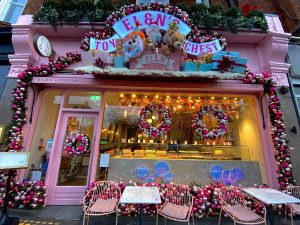 Photo: Urban Adventurer
"Here we are sir, EL&N's Toy Chest."
EL&N Café's Brompton Road branch's Christmas decoration is inspired by Duncan's Toy Chest in the iconic movie, Home Alone 2: Lost in New York. Ultimate nostalgia guaranteed.
Don't forget to try their new themed drinks and sweet treats menu, including 'Kevin the Snowman' Nutella mousse with brownie.
The Ivy Chelsea Garden
195, 197 King's Rd, London SW3 5EQ
Photo: Urban Adventurer
Whoville has come to The Ivy Chelsea Garden. 'Miracle on the Mount Crumpit' brings you the ultimate Christmas cheer but beware of the Grinch lurking above your head with sour sneer.
Once you're ready with your selfies, make sure you try their fun drinks menu which includes alcoholic and non-alcoholic festive cocktails, such as 'Cindy-Lou Who' and 'Whoville Hot Chocolate' or choose the mean one: 'Grinch Jooose'.
 34 Mayfair
34 Grosvenor Square, S Audley St, London W1K 2HD
Photo: Urban Adventurer
This restaurant's terrace in Mayfair is full of Christmas trees and presents. In collaboration with Courvoisier UK, the menu brings you a limited-edition dessert, called 'As Choux Like It' and unique spicey Christmas cocktails.
Hedonism Wines
Photo: Urban Adventurer
Hedonism Wines is famous not just for their top-shelf wines and spirits. It's a destination to many Londoners during the festive period to see their magical Christmas installation in front of the shop.
This year they showcase a beautiful Winter scene with show-covered slopes, a snowman, and a red post box to send your secret Christmas wishes to Santa.
 Liberty London
Regent St., Carnaby, London W1B 5AH
Photo: Urban Adventurer
The iconic store of luxury fashion and homeware traditionally surprises us with unique and decadent in-store decoration every year in December.
This year they have erected a spectacular purple hot air balloon in their main hall, garnished with Christmas postcards and presents.
Ready for your next adventure? Is one of your loved ones a Queen fan? Why not pop in to the iconic band's pop up shop in Carnaby Street to find a really special gift for this Christmas?