NOW Gallery in Greenwich Peninsula is home of thought-provoking cutting-edge exhibitions from emerging contemporary artists from around the globe.
On 23rd June 2022 a new exciting exhibition opened by a South Korean artist and designer, JeeYoung Lee. The exhibition is called 'Maiden Voyage' and it's a mind-blowing installation of monumental origami creations and 400 hand-made Gingko leaves.
The Artist
Artist JeeYoung Lee's latest artworks
Photo: Urban Adventurer
JeeYoung Lee is a profoundly poetic and evocative artist who has worked with such brands like Samsung and Hermes and her works have been published in CNN and New York Times.
The artist has created creative artworks for major institutions in San Francisco, Australia, Singapore, and other countries around the world.
She has won multiply awards, including The Sovereign Asian Art Prize Finalists Top 30 (2012, Hong Kong) and OCI Young Creatives (2013, South Korea).
Maiden Voyage
Photo: Urban Adventurer
NOW Gallery unveiled JeeYoung Lee's latest installation, 'Maiden Voyage' on 23rd June 2022.
The exhibition's aim is to trigger thoughts and encourage visitors to rediscover their childhood memories by monumental origami installations interweaving past and present.
A giant origami boat and swans floating on hundreds of hand-made Gingko leaves give visitors the opportunity to rediscover their own childhood memories while submerging in this fantasy world.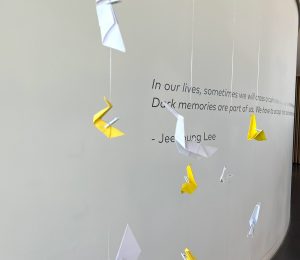 Origami swans folded by visitors
Photo: Urban Adventurer
JeeYoung Lee encourages visitors to spend time within the objects and allow their emotions, dreams, memories, and feelings to get a way to the surface, then write those memories down on a piece of origami paper provided, fold it into a swan and add it to the collection which will continuously grow during the exhibition.
NOW Gallery will donate 10p to the Wildfowl & Wetlands Trust for each origami swan folded during the exhibition.
Location and Opening Times
The exhibition is FREE to visit.
Location
NOW Gallery
The Gateway Pavilions, Peninsula Square, Soames Walk, London SE10 0SQ
Opening Times 
23 Jun – 25 Sep 2022
Tue to Fri: 10am – 7pm
Sat: 10am – 5pm
Sun: 11am – 4pm
Ready for your next adventure? Japanese contemporary artist, SaiakuNana's pop up gallery is still open for visit in Shoreditch.