Being promoted by such A-listers like Arnold Schwarzenegger, Sylvester Stallone, Bruce Willis, Demi Moore and Whoopi Goldberg, Planet Hollywood is a world-famous dining and entertaining spot in the heart of London.
Photo: Urban Adventurer
Since located in West-End theatre district, they have a special "Pre-Theatre Menu" available when you book it through an on-line theatre and meal deal.
The Ambiance
A life-sized Terminator statue welcomes you on your arrival.
Photo: Urban Adventurer
The walls are decorated with props and costumes from famous blockbusters such as Star Wars or James Bond.
The venue is airy and comfortable, not overcrowded with too many tables and chairs.
Photo: Urban Adventurer
Large screens show interviews and trailers of upcoming movies to keep you entertained while sipping your movie themed cocktail.
Don't forget to head up the stairs to see the wall of handprints and signatures. Place your hand over the handprints of such legends like Silvester Stallone or George Clooney and have fun with comparing the size of your hands.
Photo: Urban Adventurer
Private Hire
There are three themed rooms to be private hired.
Bond Room
Photo: Urban Adventurer
The 007 themed room is decorated with impressive props from famous Bond movies, such as Goldeneye, Live and Let Die and Moonraker.
British Room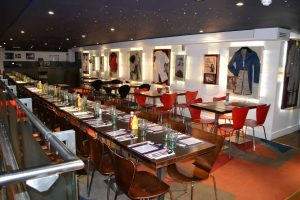 Union Jack carpet, kaleidoscopic walls with famous hands created exclusively for Planet Hollywood London. The British Room plays tribute to the legends of British cinema, and TV legend memorabilia from Love Actually and Chariots of Fire just to name a few.
The Cabanas
Swimming pool design carpet and diving board tables. This is the Cabanas Beach Bar themed room from where you can enjoy perfect view across the entire venue.
The Food
I tried Teriyaki Grilled Salmon with white rice and vegetables. The presentation was beautiful, the salmon was super tasty, and the vegetables were fresh and crunchy.
Photo: Urban Adventurer
My dessert was a White Chocolate Bread Pudding. This dessert was served hot with mouth-watering vanilla ice cream, bourbon sauce and whipped cream. Yummy!
Photo: Urban Adventurer
I couldn't resist the legendary Chocolate Comet Supernova Shake and regret nothing. It looked just like in those photos on social media and was just as delicious as it looked.
Photo: Urban Adventurer
The waitress who served me was super friendly and the service was quick and efficient.
Had a great time there. Thank you, Planet Hollywood! I'll be back.
Ready for your next adventure? How about a journey to London's pinkest café?