If I say Cadbury, you most likely say diary milk chocolate. Would you believe if I said the UK's favourite chocolate maker, known for its smooth milky chocolate bars, opened a vegan pop-up store?
Cadbury opened a unique vegan pop-up shop in Soho on the 22nd March and will be there for 5 days only.
Watch video here.
Greeted by Free Cadbury Plant Bar
Photo: Urban Adventurer
Cadbury's 'Mean Tweet Shop' is open from 12pm-6pm daily from 22-26 March and greets every customer by a free vegan Cadbury Plant Bar.
The shop is dedicated to fight against mean tweets about vegan chocolate on Twitter by letting visitors taste and learn more about Cadbury's new vegan Plant Bars.
Led by high demand (in 2019 28% of participants voted for Cadbury's Diary Milk as a brand they wanted to see 'veganized' the most), Cadbury released two vegan flavours: Smooth Chocolate and Salted Caramel towards the end of 2021.
Tree of Positivity
Photo: Urban Adventurer
To help "turning plant-based hate into plant-based love" visitors are encouraged to visit the Tree of Positivity within the shop, find white cards with negative tweets hanging on the tree and swap them to purple cards with positive quotes.
The white cards contain plant seeds to be brought home and plant in soil to "help grow plant-based love."
Swapping Diary Milk for Almond Paste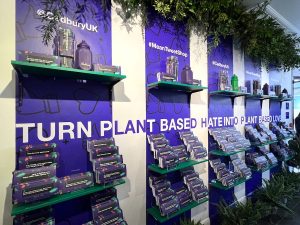 Photo: Urban Adventurer
The demand for vegan chocolate is huge and it seems Cadbury is fallen behind its competitors.
Nestlé, for example launched their diary free KitKat bar (called 'KitKat V') last Summer, while Harrods jumped in this year's Veganuary challenge by launching unique vegan pastry, named 'Dawn of a New Day' and a vegan chocolate bar, named 'Every Cloud has a Silver Lining'.
Cadbury apologised for making their customers wait for so long and for all the other chocolate their customers had to eat while wait. Their new vegan bars are made of almond paste instead of diary milk and they hope you'll agree it was worth the wait.
Ready for your next adventure? Heddon Yokocho teamed up with The King of Monsters for this March and launched their Godzilla themed menu (Godzilla sized Ramen bowl, themed drink and dessert) for £22. Vegan options available.