Wrinkled nose, bulging eyes, and huggable compact doggy body. Either you're a loving mom or dad to a pug or you are a pugless (does this word exist?) pug lover, we have good news for you. A pug-themed café opened in London.
Hug a Pug
Photo: Urban Adventurer
We went to the soft opening of CuppaPug this week to discover London's newest and cutest attraction. It's impossible to miss the venue. A huge pug mural, a 'Woof' sign, and a dog ball pit – most likely with at least two pugs having fun in it – are inviting pug buddies and their hoomans inside.
Photo: Urban Adventurer
The whole café is designed with pugs in mind. It's really a pug playground.
You can hug a pug between two sips of your drink on the raised stepped seating, join them to play in the pug ball pit or simply lie down on the floor and let the pugs climb on you.
Photo: Urban Adventurer
Hoomans with their pug buddies and pug admirers are all welcome to be the company of the resident pugs.
NOTE: If you want to visit the café with your pug, you have to specify that when booking because the café can welcome a limited number of pugs. This is for the wellbeing of the doggies, so they can enjoy themselves without getting frustrated by too many other puggies around them.
Their Mission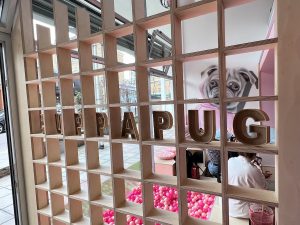 Photo: Urban Adventurer
 CuppaPug's mission is to educate their audience on what it takes to look after a pug as well as to break common misconceptions around pugs.
CuppaPug is working closely with The National Pug Protection Trust to help them raising funds for rescue, medical care, fostering and adopting abandoned and abused pugs across the UK.
Being the official partner of NPPT, the café charges £10 entry fee to support the organisation to help providing the best facilities and care to the pugs.
Within the café, visitors have the opportunity to learn more about pugs, their habits, and needs and support them by even fostering or adopting.
The Menu
Photo: Urban Adventurer
The menu consists of a selection of pug-themed coffees, smoothies, cakes, other baked goods, and snacks.
Their fresh menu changes regularly. This includes cupcakes, toasts, and cookies.
Make sure you take good care of your food because pugs can be very needy and greedy and will try their best to eat your cake 🙂
Make sure you don't feed the pugs with your own treats and take care of your food because some treats such as chocolate can make them ill.
Pugs need a balanced diet and structured routine for their wellbeing.
Learn more about 'Pug Rules' within the café.
However, at certain times when the pugs are being trained, you may have the opportunity to feed them with pug treats.
If you're with your own doggie, a special dog menu, including Puppucino, is available for them. Just ask the friendly staff about it.
Resident Pugs
Photo: Urban Adventurer
Currently there are five resident pugs in the café, and they all have their own personalities.
In contrast to the common belief, pugs and not lazy. In fact, they need lots of activities and stimulation for their happiness and wellbeing.
Bruce (5), for example, "is a little rocket." Gizmo (1) is a born explorer: he misses nothing to explore, and you will find him constantly under your feet. Bebé (1) is the sister to Gizmo, and she is a very energetic and playful puggy with super independency.
Pug to Know
Pugdress
5 Ability Plaza, Arbutus Street, London, E8 4DT
Opening Times
Thursday – Sunday
11am – 7pm (last booking 6pm)
Booking
Book your visit at CuppaPug's website.
Ready for your next adventure? Now you have visited pug café, how about taking a trip to a cate café? Lady Dinah's Cat Emporium is the largest running cat café in the UK.