Serpentine Gallery gives home to a multi-layered project blending the physical world and augmented reality. The free experience is the first solo exhibition of KAWS (Brian Donnelly), the internationally acclaimed American artist and designer.
Watch video of the exhibition here.
Who is KAWS
Image Source: cnn.com
Brian Donnelly – KAWS – is an American graffiti artist and designer who gained reputation for his unique figurines with a signature X drawn across their eyes and scull.
KAWS has had collaborations with such brands like NIKE and Uniqlo.
KAWS also famous for his large-scale public installations, such as KAWS: Holiday that was installed in the Hong Kong harbour.
In 2019 THE KAWS ALBUM (2005) broke record on an auction: it was sold for $14.8 million that broke the previous record of $2.7 million in 2018.
Today, KAWS's artworks are displayed at High Museum of Art in Atlanta, the Modern Art Museum of Fort Worth, and the Rosenblum Collection in Paris.
KAWS: NEW FICTION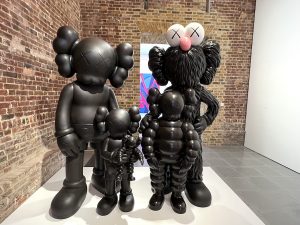 Photo: Urban Adventurer
KAWS: NEW FICTION exhibition opened in 18th January 2022 at Serpentine North Gallery in Hyde Park and is free to visit until 27th February 2022.
The exhibition has come into being in collaboration with Acute Art and Fortnite. Fortnite launched their online video game version parallelly with the exhibition. Players can view the exhibition from anywhere in the globe and interact with the artworks.
If you want to play with the game, you can have access with island code: 9441-7852-6686.
Blending the Physical and the Virtual World
Photo: Urban Adventurer
To enjoy the exhibition, scan the QR code with your smart phone on the spot and download the app called Acute Art. Select KAWS NEW FICTION, select your location and tap 'View' then follow the instructions.
You can also download Acute Art app from Serpentine Gallery's website and enjoy the virtual version of the exhibition inside or outside.
The exhibition is open every day, EXCEPT MONDAY, from 10am. Book your free ticket here.
Ready for your next adventure? More than 200 real objects, hand-written letters, and photographs to discover the true story behind the legendary ship. Visit TITANIC: THE EXHIBITION.