Zizi Factory brings you a sexy trend straight from Paris. They just opened their doors a couple of weeks ago in Covent Garden, but have already become a hot spot for Instagrammers, bloggers, and Tik Tokers.
Waffles to Get A-Dick-Ed To
Photo: Urban Adventurer
Zizi Factory's cheeky waffles will definitely have something to teach about the birds and the bees.
They have two different types of sexy waffles, penis shaped and vagina shaped waffles, called Willy and Fanny.
You can have them with different outrageous toppings, and – if you're brave enough – you can ask for a 'Happy Ending' for a little extra. 'Happy Ending' is white Chantilly cream served on the right side of the waffle (if you know what I mean…).
Willy + Fanny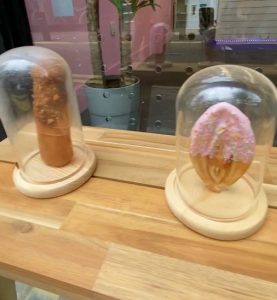 Photo: Urban Adventurer
There are five different topping variations to choose from, containing white and milk chocolate, triple choc balls, Speculoos biscuit, and rainbow sprinkles. Each Willy waffle has a female pair that comes with the same topping, for example Yves – Yvette or Jaques – Jaqueline.
Although, the two types of waffles come with the same topping, they couldn't be more different. Willy waffles are … khmmm … soft and chewy, while Fanny waffles are much thinner and crispy.
Lucien + Jaqueline
Photo: Urban Adventurer
I paired Lucien and Jaqueline. Lucien is dipped in melted milk chocolate before smooth white chocolate being poured on the top. The decoration is finished with triple choc balls and the waffle is served on a stick.
Photo: Urban Adventurer
Jaqueline was dipped in girly pink melted chocolate and sprinkled with rainbow vermicelli.
If you're looking for a naughty date spot, Zizi Factory will definitely be a satisfactory option.
65-67 Neal Street, London, WC2H 9PJ
Ready for your next adventure? Now that you have tasted London's naughtiest waffle, why not head towards Oxford Street, and try one of the epic toasts in London's first French toast bar, Crome London?